Hip-Hop Legend Monie Love Teams Up With Promising Newcomer Nana Fofie for Track, '1NE People'.
Known for her well received debut album, Down To Earth, which produced hits, 'It's A Shame (My Sister) and 'Monie In The Middle' British rapper MONIE LOVE brings on an international flavour through her latest single, '1NE People'
A unique mesh of reggae/R&B, showcasing Monie's West Indian roots as she performs a melodic, reggae chant vocal performance in Jamaican patois which is inspired by the heartfelt mantra by Marcus Garvey – "Out of Many, One People".

Monie's lyrics and vocal performance in the song are inspiring and motivational with a relatable appeal that feels entertaining yet educational at the same time for the listener.
Along with Monie on the single release, fans are introduced to Nana Fofie – a young, up and coming Ghanian  singer/songwriter from Rotterdam, South Holland with an infectious vocal performance that will remind the listener of great female vocalists such as Marsha Ambrosius and Tems.

Nana Fofie's featured verse is delivered in English and French and is the perfect addition to Monie's vocals offering a substantial and inspirational tone.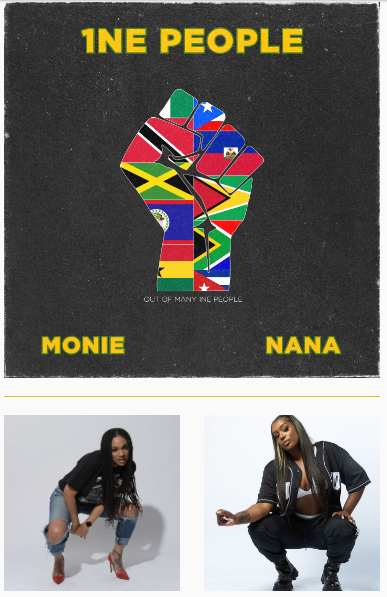 Produced by Roctimus Prime – an up and coming music producer/engineer in collaboration with legendary Grammy Nominated hip-hop producer, Baby Paul/BpZy (formerly of Da Beatminerz) '1NE People' delivers an international female statement, spreading a message of peace, love and unity for the world!
'1NE People' is now available across various music platforms