LA Metal Trailblazers MELTED BODIES To Release "The Inevitable Fork Vol. 1" EP On Nov 25th.
Los Angeles' acclaimed metal innovators MELTED BODIES have revealed details of the upcoming release, "The Inevitable Fork Vol. 1" EP, which will debut on November 25th. The record will be the first of three EP's released over the next several months that will culminate with their second full-length album, "The Inevitable Fork," coming early 2023.
First revealed at MetalSucks, the band has released the record's first single, "Therapy." Guitarist/vocalist Andy Hamm says of the new song: 
"I have been in and out of therapy for years, and I still fight with the notion of paying someone to talk to me or just sit there and listen—that's not to say that it hasn't been helpful. The underlying realization is that we are growing to become so self-involved, so mentally drained, and consumed by making money, that the only people left who actually have the capacity to listen truly are those getting paid for it."
MELTED BODIES' first taste of "The Inevitable Fork" is a clear reminder of the band's idiosyncratic sound, ability to weave in and out of musical styles and total disregard for heavy music's typical conventions, that they introduced on their pre-pandemic debut. The beautiful chaos continues to unfold as the layers of "The Inevitable Fork" are peeled back.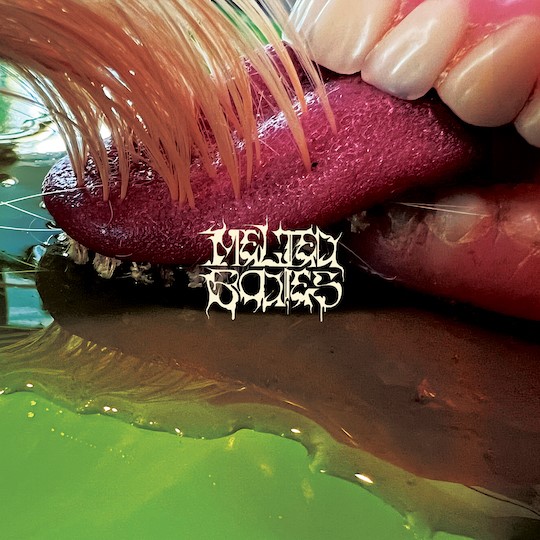 "The Inevitable Fork Vol. 1" Tracklisting:

1. The Inevitable Fork
2. Think Safe
3. Liars
4. Therapy
It's 2015 and Andy Hamm has albums sitting above his vinyl record player – Cannibal Corpse's "The Bleeding" and Talking Heads' "More Songs about Buildings and Food." For the greater part of the past decade, he had been touring the world as a founding member of the indie band LOCAL NATIVES, but had been dismissed from the band he had helped build for creative differences. Depressed and burned out, he was struggling to even consider making new music. However, those two albums on his wall, two records that epitomized his taste from an early age, were a template for a new project that could re-ground him in the reason why he ever wanted to create music in the first place. So, he started writing. 

A few months later, Andy met Scott McDonald at a screening of the Japanese cult film "Why Don't you Play in Hell?" It didn't take long for the two to realize their shared love of horror and anime extends to music as well. With Scott's early background playing drums in Portland's early 2000's outfit UPON BEAUTY RESTS, the two decided to meet up and see whether Andy's new project might have some traction. After a few practices, it was clear that it was time to fill out the band, starting with bassist Houda Zakeri. Houda had been part of the LA punk scene for years playing with HOLY HYDRAULICS, but had put a pause on playing music due to a cancer diagnosis. Once in remission, her first priority was playing live again, and like Scott, the exciting convergence of so many different tastes and ideas made Andy's new project feel different. 

The final piece came by way of Andy and Scott's mutual friend Ben Majoy, who initially booked the three piece to open a DIY party in downtown Los Angeles. Ben, who also goes by the moniker 'Diamondstein,' is an electronic musician and host of NTS Radio's long-running experimental and industrial program "Night Shift." Andy and Ben had initially connected through hallway conversations at their day jobs over their shared, almost encyclopedic knowledge of metal and its many factions. So when the trio decided to find a fourth member to fill out the many electronic details on these initial demoes, Ben became the obvious choice. And with this, MELTED BODIES was formed. 

Over the course of the next few years, the foursome developed a reputation around Los Angeles for their chaotic, energetic, and unpredictable liveshows. Their initial reputation for strange satirical outfits, and difficult-to-pindown intensity led to as many mismatched billings as it did sold out shows, playing support for the likes of mainstays like Red Fang, Kikagaku Moyo, Horse the Band, Machine Girl and others. A Southern California cult following emerged, just as 2020 shutdown the world – an ironically perfect time for MELTED BODIES to finally release their breakthrough debut album "Enjoy Yourself." 

This album, self-recorded in the depraved Inglewood practice space where MELTED BODIES rehearsed, became a breakthrough for the band, introducing their fresh and contradictory sound to a global audience of like minded multi-hyphenate metalheads. Critically acclaimed for its fresh ideas while still retaining a respectable metal literacy, "Enjoy Yourself" was labeled "the Most 2020 album we could have hoped for" by journalists, largely due to its themes of consumerism, arrogance, police cannibalism, political ambivalence, and isolationism. It eventually became one of Bandcamp's most popular metal albums for the year, and a frequent part of many year end lists, including a #1 from MetalSucks. 

Now, firmly established as a referential and wholly unique part of the metal music landscape, MELTED BODIES is on the cusp of their second record, "The Inevitable Fork." This album, comprised of three unique EPs, takes much of the physical energy and harsh honest lyrics from "Enjoy Yourself," and expands it with a more internalized lyrical approach and new musical ideas. While "Enjoy Yourself" was about a battle with society, these new songs are about the all too common battle of survival vs. joy. "The Inevitable Fork" represents the decisions and paths we are forced to pick at certain points in our life: our skewed approach to work and life, pitting the necessity to conform and stay afloat against the pursuit of one's passions and a real feeling of purpose. "The Inevitable Fork" is the next chapter for MELTED BODIES, but for a band designed around reflecting our idea of metal, music conventions, and America's idea of itself back on us with glaring intensity, this is just the beginning of their story.
MELTED BODIES Tour Dates:
Oct 1 – Troy, NY – Bacchanalia
Oct 2 – New York, NY – TV Eye