Swedish heavy metal fanatics ENFORCER are stoked to share their second new single 'Nostalgia'.
The title track of their upcoming album Nostalgia, due to be released on May 5th, gives fans another taste of the new long-player.
Whilst first single 'Coming Alive' showed the straight-to-the-point, classically heavy side that ENFORCER are well-known for, 'Nostalgia' flaunts a more melodic and powerful edge, including acoustic elements and a more delicate, heart-felt touch. It's the album's ludicrously catchy power ballad. Along with the new single, the band have also released a new music video to accompany the track.
ENFORCER's Olof Wikstrand comments:
"Sooner or later you get to a point in life when you realise you're not gonna live forever and you see things around you that you used to know aged, withered and dead. There's absolutely nothing you can do about the destructive force of time. We're super excited to share with you one of the most ominous songs we've ever written: Nostalgia. A powerful semi-ballad about the futility of life. Enjoy!" 
ENFORCER's new album Nostalgia was recorded at Olof and Jonas Wikstrand's own Hvergelmer Studios, where the most recent ENFORCER records also first saw the light of day. All 13 album tracks were captured between October 2020 and February 2022. The entire record was produced, mixed, and engineered by the band. The artwork for Nostalgia was made by Adam Burke. With Nostalgia, ENFORCER are embracing their speed metal roots, fusing extreme guitar riffing with catchy stadium choruses.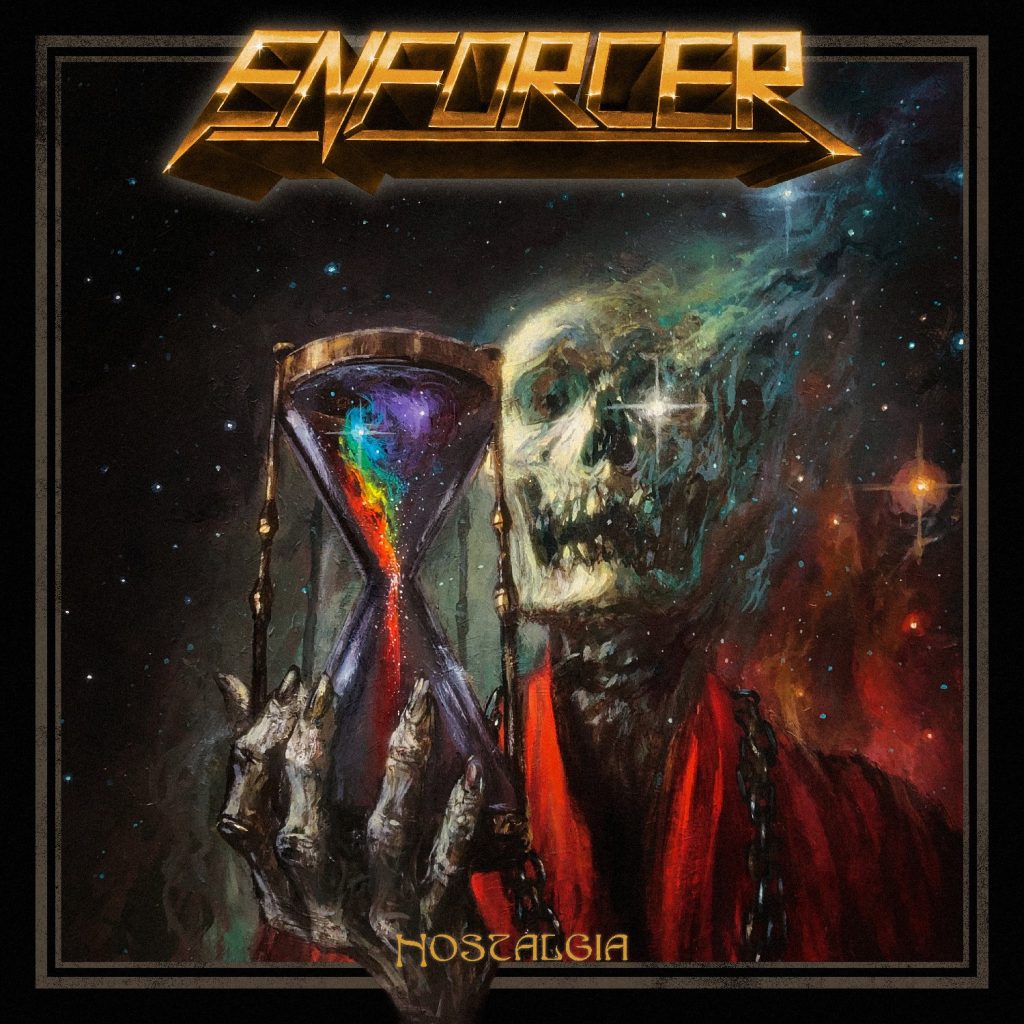 ENFORCER is:
Olof Wikstrand | vocals, guitars
Jonas Wikstrand | drums, piano & keyboards
Jonathan Nordwall | guitars
Garth Condit | bass
Swedish heavy metal band ENFORCER were formed in 2005 by lead vocalist and guitarist Olof Wikstrand. The first two albums Into The Night (2008) and Diamonds (2010) established the band's loyal fanbase and left a long-lasting imprint in the heavy metal world. With increasing success in the underground scene, ENFORCER led and created a worldwide movement later referred to as 'the new wave of traditional heavy metal'. In 2012 the Swedes were recognised for their impressive musical repertoire and signed a worldwide record deal with the biggest metal label in the world, Nuclear Blast Records. Since then, the band have released three more studio albums with Death by Fire (2013), From Beyond (2015) and Zenith (2019).

To date, ENFORCER have toured the world over, playing the biggest festivals and garnering a global fanbase. The culmination of their tireless work ethic also resulted in the release of two live albums, Live By Fire (2015) and Live By Fire II (2021). ENFORCER have proved themselves both live and on record, and in 2023 they stake their place amongst the world's most renowned heavy metal bands.