Dylan and The Moon Announces Major Headline Tour Following BBC Radio 1's Big Weekend Set
Following a storming set at BBC Radio 1's Big Weekend in Dundee; multi-talented musician, singer-songwriter, music producer and BBC3's Project Icon winner Dylan and The Moon has announced a major headline tour for September, with tickets on sale now via https://sjm.lnk.to/DATM
Set to take the indie-pop world by storm Dylan and The Moon recently became the first winner of BBC Three's latest music show 'Project Icon', impressing the judging panel (consisting of Jason Derulo, Becky Hill + Jason's long term business partner Frank Harris). With his songwriting ability, production skills and all round rockstar showmanship Dylan gained a record deal with Jason's new record label 'Future History' and a collaboration with Jason Derulo himself.
 
With tasteful inspiration from the likes of old-school Buddy Holly, The Cure, and The Beach Boys, his infectious melodies are coupled with bright guitar lines that make for feel-good music. Delivered through subtle distortion, Dylan's unique voice and storytelling effortlessly invite you into his world of retro references and playful modern sounds.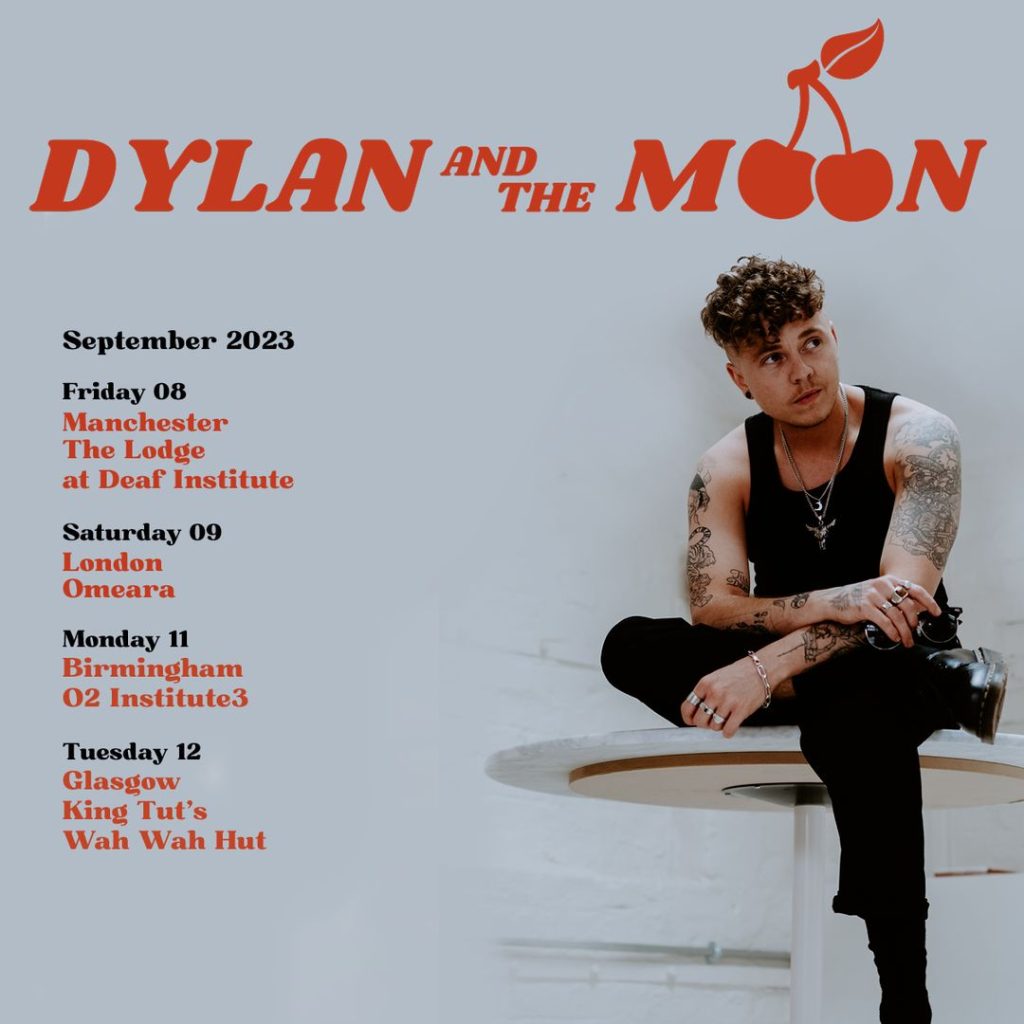 The self-confessed secret romantic pens songs inspired by dreams, love, sex, and heartbreak in a conversational, tongue-in-cheek tone that makes you feel as though you've been friends for years. Strong recurring tones of happiness are at the core of Dylan's upbeat and contagious music, with a heart-wrenching ballad or two sprinkled in for a full-circle ride of emotions. Dylan says he plays his guitar to bring people together – that is the purpose of his music. Citing musical heavyweights, Portugal. The Man, Vampire Weekend, Harry Styles, The 1975, and Taylor Swift as his modern muso inspirations, Dylan welcomes you to his musical universe with his own lyrical style, twists, and spins for you to enjoy.
 
Growing up in a small town in Cornwall, Dylan began learning the art of songwriting using just his dad's record collection and a birthday-gifted guitar. Initially using writing as a form of therapy for sharing the emotions he found hard to express, it was clear to his family he had a way with words that, when surrounded by music, could speak straight to the heart. At 17, he moved to London to take on the big smoke and pursue music full-time. Dylan has spent the last few years in his home studio bringing these stories to life in musical form and is ready to share them on his stage with his energetic live band.  Don't miss Dylan And The Moon live this September.
Fri 08 Sep 2023                      Manchester Deaf Institute – The Lodge
Sat 09 Sep 2023                     London OMEARA
Mon 11 Sep 2023                   Birmingham O2 Institute 3
Tuesday 12 Sep 2023           Glasgow King Tuts Wah Wah Hut