NYC-based alternative rock outfit BLACK ROSE BURNING presents their invigorating new single 'Fight!', a potent taste of their third full-length album 'Ad Astra', mastered by Jason Corbett of ACTORS at Jacknife Sound.  
Earlier, the band released the singles 'Night Terrors' and 'Sing to Me (E.L.E.)'. Formed in 2018 by instrumentalist, producer and engineer George Grant, Black Rose Burning also involves guitarist Frank Morin (World Inferno Friendship Society) and drummer Luis Infantas (Monster Zero).

"The final single before the release of the full 'AD Astra' record, 'Fight!' was written from a standpoint of someone who is unhappy with a partner or a relationship and has essentially given up but, for whatever reason, won't or can't just end it," says George Grant.

"It always seems like you're in the midst of one great big battle. I think there are many reasons why this happens, from loyalty to fear of being alone to sometimes even selfishness. It's painful to realize that your belief in someone/something that you once felt had so much promise and potential has deteriorated to the point that you have no choice but to let it all go."
In 2021, Black Rose Burning released their second album 'The Wheel', one year after debuting 'The Year of the Scorpion' album. George Grant's soulful vocal delivery, instantly recognizable voice, solid instrumentation crossing several genres are standout features of this music. Roughly 40 years of songwriting across various genres has helped George embellish on clever hooks, drive and the gothic-pop sensibilities of The Cult's early years.

'Ad Astra' was recorded in George's own studio, PV Recording Company, which has hosted notable artists over the years, including Emelio Zeff China (Peter Murphy), Knox Chandler (Siouxsie And The Banshees), Chibi (The Birthday Party Massacre), Nellie McKay, Julia Marcel, Paul Bakija (Reagan Youth), Ego Likeness and Voltaire (with whom Grant also played bass for 10 years).

Grant says, "This new music marks the debut of the entire band recording together, instead of me playing all the instruments and programming drums. It takes everything to a whole new level in terms of feel and especially in musicianship."

'Fight!' is out now exclusively via Bandcamp. The 'Ad Astra' album will be released on September 15 on CD and also available digitally from fine music platforms, including Spotify, Apple Music and Bandcamp.  That same night, Black Rose Burning will be playing their album release show at NYC's Mercury Lounge for The Red Party.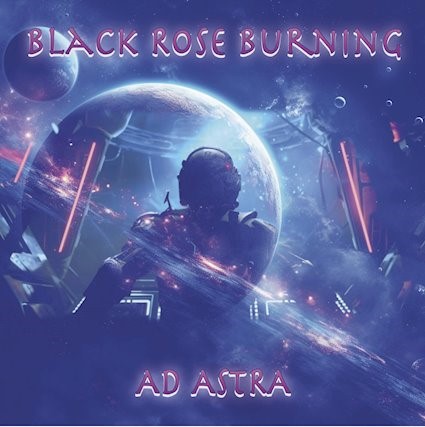 TRACK LIST 
1. Ad Astra
2. Think Too Much
3. Sing To Me
4. Fight!
5. So Cold
6. Night Terrors
7. Stranger
8. Become The Machine
9. Per Aspera

TOUR DATES
Thu, Oct 5th – Raleigh, NC @ Ruby Deluxe  
Fri, Oct 6th – Tampa, FL @Crobar for Absolution Fest
Sat, Oct. 7th – TBC
Sun, Oct 8th – Louisville, KE @ Art Sanctuary
Tue, Oct 10th – Indianapolis, IN @ The Black Circle
Wed, Oct 11th – Chicago, IL @ Be Afraid Of The Dark Fest
Thu, Oct 12th – Pittsburgh, PA @ Cattivo (with Visceral Anatomy)
Fri, Oct 13th – Richmond, VA @Fallout w/ Empathy Test
Sat, Oct 14th – Wilmington, DE @ Bar XIII (TBC)