Award winning

Tennessee

Fields

Festival

returns to full capacity in 2022 and is delighted to announce the first wave of a stellar roster of artists.
Oregon native Jackson Michelson is the first of an exciting US contingent to be announced and will be taking up one of the top main stage slots, alongside top UK trio The Wandering Hearts. Also announced in this wave of artists are the fantastic Jade Helliwell, The Rising, Two Ways Home and exciting new artist, Allie Marie Hunter.
Jackson Michelson regularly performs more than 100 gigs per year in the US and achieved his first ever UK show at the inaugural festival in 2019, stunning the audience with his electric and engaging performance. Booked to perform in 2021, he was unable to travel due to restrictions and is so excited to finally return in 2022. The Wandering Hearts released their self-titled album in 2021 and are looking forward to being able to perform their new music in a festival setting. Multi-award winner Jade Helliwell performed a fantastic set at the 2021 festival, after stepping in for a last-minute cancellation, and is set to bring even more energy and power to a fully prepared and rehearsed performance in 2022. The Rising are excited to be heading over from Ireland to perform to their huge numbers of UK supporters.
Previous Caffe Nero Artist of the Month (and with multiple award nominations to their name) Two Ways Home, firm fan favourites in Essex, will be delighting the crowds at the acoustic stage. New artist Allie Marie Hunter will be making her first festival appearance following the successful release of her first two singles.
On its debut, the festival was listed in The Telegraph and The Times' top UK festival features, garnered multiple award nominations including a UK Festival Awards shortlisting, and was crowned the UK Country Music Showcase awards Best Festival 2019. The 2021 event, although subject to restrictions, brought happiness to an excited and enthusiastic crowd following the first 18 months of pandemic chaos. The beautiful open-air venue at Sandy Brook Fields on the outskirts of Chelmsford, and flexible outlook of the festival team ensured it was a safely run, low risk event which gave many people their first chance to experience live music again at a time of national lockdowns.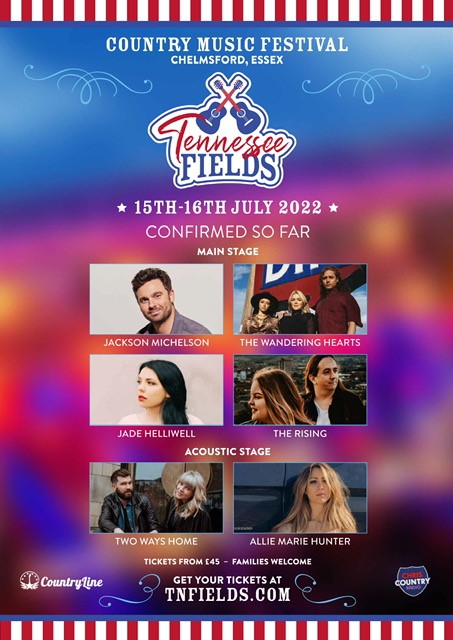 With the largest roster yet, the festival is set to return bigger and better than ever, having weathered the last two years with resilience and positivity. A fresh look awaits the attendees at the 2022 festival, alongside top-quality American style food, drinks and entertainment including a rodeo bull, Ferris Wheel and shopping area, as well as the popular line-dancing session. Grassroot activities such as the songwriter's workshop and the songwriting masterclass will return in 2022 to continue to support younger and emerging artists. The Friday night party will once more kick off the festival, with karaoke and live music galore, and it will all take place in the beautiful Essex countryside, less than an hour from London. 
Camping and day tickets are available now